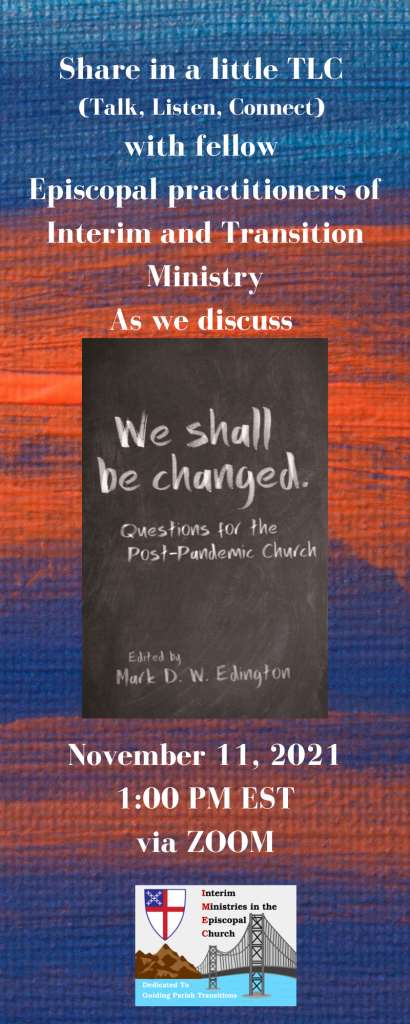 We Shall Be Changed: Conversations for Leaders in the Post Pandemic Church
IMEC is offering five opportunities for conversation using the book We Shall Be Changed: Questions For the Post Pandemic Church edited by Mark D.W. Edington. Click here for a short excerpt in PDF prepared by Church Publishing.
As Edington points out in his introduction, two viruses changed life in the past year and a half. The deadly COVID 19 respiratory virus resulted in untold death, fear and isolation. The virus of racism became front page news when George Floyd said "I can't breathe. " Edington describes these events as "two simultaneous pandemics linked by the deprivation of breath." (p. xi)
The TLC group will follow the format designed by Edington to look at five areas of particular concern to the Post Pandemic Church. For each zoom meeting, participants may choose to read a short essay written from differing perspectives and voices that respond to the conversation topic. Or, participants may participate in the TLC group without having read an essay.
TLC will meet on zoom for one hour on the second Thursday of the month – October through March (omitting December) at 1:00 pm Eastern time.
Click here to send an email request for a zoom link.
Be sure to include your name, email address, current place of service.
October 14: Distancing and Deepening
November 11 Liturgy and Longing
December no meeting
January 13 Hard Choices and Helpful Hands
February 10 Inequality, Marginalization and Renewal
March 10 Leadership—Challenge and Change
Here's a link to scribd.com to review the book using the 30 day free trial if you are not already a subscriber:https://www.scribd.com/book/479355240/We-Shall-Be-Changed-Questions-for-the-Post-Pandemic-Church.