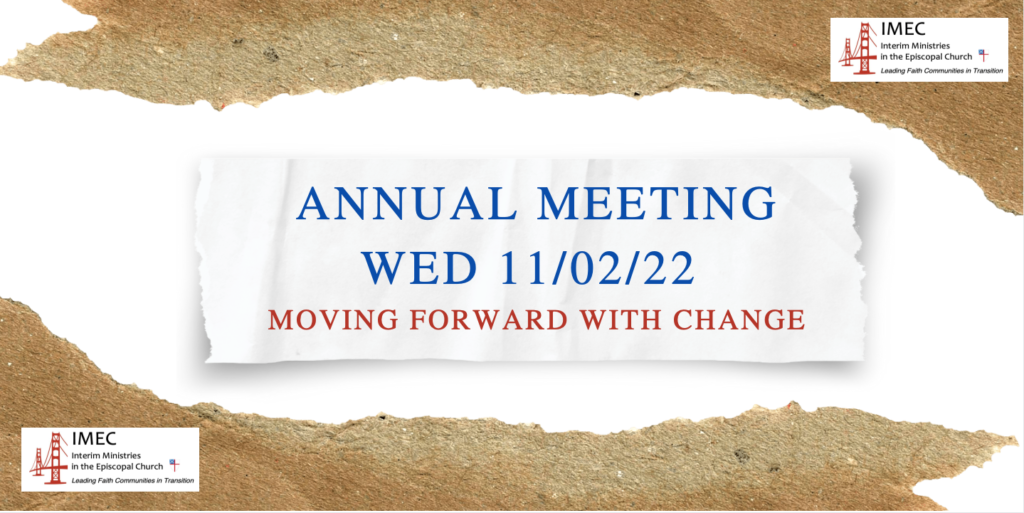 IMEC OFFICERS Elected to serve during 2022-2023
The Rev. Terri Thornton, President
The Rev. Dr. Alicia Alexis, Vice-President
The Rev. J. Kathryn Costas, Treasurer
The Rev. Mary Ellen Dolan, Secretary
IMEC BOARD OF DIRECTORS – 2022-2023
The Rev. James Newman
The Rev. Courtney Tan
The Rev. Dr. John Throop
The Rev. Dr. Ron Pogue
The Rev. Cn. James Harlan
The Rev. Wayne Fletcher
The Rev. Don Davidson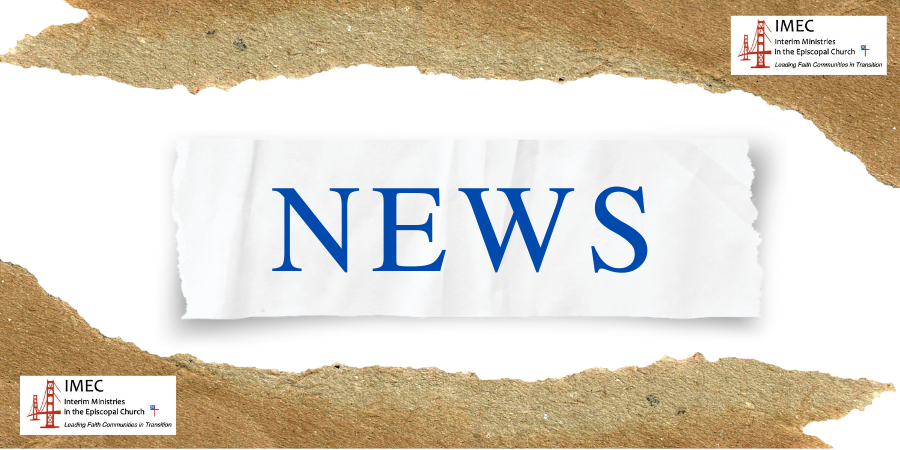 The Dean will retire from Trinity Cathedral in Davenport IA at the end of 2022. If you know of someone who might be interested in serving as Interim or as Dean, contact the Rev. Meg Wagner at mwagner@iowaepiscopal.org or 515-850-5220.

The faculty of the Interim Ministry Network is reviewing the current FTML and FTMC curriculum. Please email faculty member Bill Thomas with any thoughts you have on topics that those engaged in today's world of ministry practice would find helpful and useful.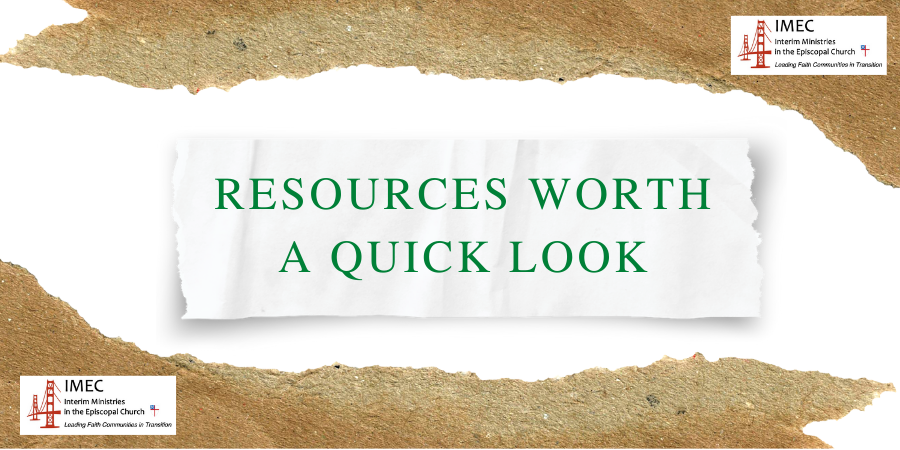 Episcopal priests, Adam Thomas (yes, he's the son of IMEC President Bill Thomas) and Carrie Combs, are millennial age with a sense of faith and fandom. The Podcast for Nerdy Christians, now in its fifth season, provides 45 to 50 minute sessions of useful information about topics that we engage everyday in our own active ministry. And Carrie and Adam do all this with with knowledge, wit, and arcane detail that reminds the listener that our faith is immersed in the transcendent and the imminent. These Nerdy Christians connect their work as priests in parish settings with prayer from the Bible or the BCP and a quote from "Nerd Canon." They share insight with humor by looking at Disney Princesses, the Marvel Universe, doses of Star Trek and Star Wars, Harry Potter, the works of Becky Chambers, and other fantasy books and practices such as D&D.
Two recent podcast are worth a quick look:
The Encanto Family System which looks at the Disney movie Encanto from the perspective of the Bowen Family Systems theory. Connecting with these characters may help you find another way to help a congregation understand conflict and tension.
SciFi Chaplains helps us as Interims and Transitions practitioners connect with how we do our work by looking at a fantasy set of "Chaplains" such a Shepherd Book on the Serenity in Firefly and Guinan from Star Trek the Next Generation. Listen and see if these characters describe rather than fix (which is an essential part of interim ministry).